Get an Influx of Qualified New Patient Leads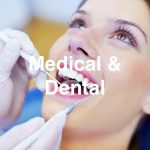 PeytonDigital specializes in exclusive cost-per-lead patient leads that our acquired via your dental practice brand and never resold to any other dental practice. Leads are fresh and instantly sent to the emergency care client so they can take immediate action.
There are many third-party directory services for dental practices, but their lead quality is questionable. The leads are gathered in broad (and often deceptive) manner and sold to numerous clients in a single market. This means the prospect will likely be more of a 'tire kicker' and will be contacted by many dentists besides your own. So actual conversion rates into patients are low. One case in point, 1-800 Dentist, shared leads that usually do not materialize.
PeytonDigital focuses the search for new medical patients
PeytonDigital offers qualified patient leads with convenient cost-per-lead pricing. We build branded landing pages with unique messaging in order to attract new patients on desktop, tablet, and mobile users in the local area. PeytonDigital's proven dental lead campaigns are designed to surgically build your practice revenue with a cost-effective solution. We specialize in strategic local marketing campaigns for:
Walk-in and Emergency Dental leads
Weekend and Nightly Hours leads
Specialty Dental leads (including implants, Invisalign, and more)
Easy and proven patient lead acquisition
Dental practices in both major and secondary metropolitan areas often find it difficult to obtain qualified interested patient leads. Spreading your budget across 1-800-DENTIST, Google Ads, Facebook Ads, Bing, and third-party directory services can be costly if not done strategically. You need the right tools in order to precisely identify prospects who are interested your dental practice.
After only a few days, walk-in and emergency leads often convert into profit and are designed to bring a roster of new patients into the practice with exceptional on-going revenue.
Complete digital lead generation solution
Exclusive qualified branded leads for your dental practice (Your leads are never resold!)
Localized and targeted campaigns
Instant lead email alerts and campaign reporting
Web and phone lead tracking
Landing page design or consulting
Fill out the form to learn more